Metronome
The metronome is used to create beats of a very accurate frequency.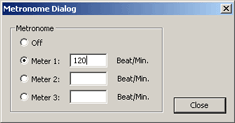 How to open the metronome
To open the metronome click "Metronome" from the "Tune" menu in the menu bar.
Metronome parameters
You can specify three different beat rates in the given text fields. Click the corresponding radio button to change to the selected beat rate.
Close
Closes the metronome dialog.
---

Copyright © 2005-2015 NetCat Inc. All rights reserved.
Instrument Tuner Instrument Tuner Software Instrument Tuning Instrument Tuning Software Instrument Tuning Tool Instrument Tuning Tools Piano Tuner Piano Tuner Software Piano Tuning Piano Tuning Software Piano Tuning Tool Piano Tuning Tools Self Tuning Piano Tune Instrument Tune Organ Tune Piano Stimmgerät Stimmgeräte Stimmen Instrument Stimmen Musikinstrument Stimmen Stimmgerät für Musikinstrument Stimmsoftware Klavier Stimmen Klavier Stimmgerät Stimmgerät für Klavier Orgel Stimmen Orgel Stimmgerät Stimmgerät für Orgel