Instrument-Tuner Home
Deutsch
News: Release 3.0.2 of Instrument-Tuner is now available! (4.2015)
The Instrument-Tuner is a professional software product that lets you verify and tune up any instrument with a laptop.
Especially complex instruments like a piano, harp or an organ can easily be tuned up or verified using the Instrument-Tuner.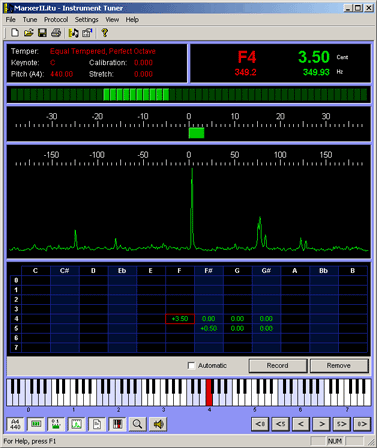 Features
Precision up to 0.01 Cent
User-friendly
More than 130 (!) different modern and historic temperaments available (see temperament table)
Create and edit your own temperaments, even from a measured instrument
Protocol document with "save" and "print" functions
Configurable keynote
Configurable standard pitch: 380 - 470 Hz
Configurable calibration
Configurable octave stretch
3 Different measurement modes
Configurable harmonics
Automatic start and stop of the measurement
Automatic volume adjustment
Automatic tone detection
Automatic protocol recording
Noise suppression
Spectrum analysis
Numeric display
Stroboscope display
Deviation bar
Zoom-In function
Cent calculator
Calibration calculator for air temperature and humidity
Most accurate multi-channel tone generator
Integrated metronome
Selection of input device
System gage for input (microphone) and output (loudspeaker)
Piano keyboard for easy tone selections
Configurable User-Interface
Resizable layout
Detailed Documentation
Choose between English and German language
Does NOT connect to the internet behind the scenes
System Requirements
A computer or laptop with at least 64 MB RAM and at least a 200 MHz processor
Operating system: Windows XP or later, 32 or 64 Bit OS-Versions are supported.
5 MB free disk space.
A soundcard that supports linear PCM encoding.

Sample rate: 44100 or 22050
Sample size: 16 Bit
Links
---

Copyright © 2005 NetCat Inc. All rights reserved.
Instrument Tuner Instrument Tuner Software Instrument Tuning Instrument Tuning Software Instrument Tuning Tool Instrument Tuning Tools Piano Tuner Piano Tuner Software Piano Tuning Piano Tuning Software Piano Tuning Tool Piano Tuning Tools Self Tuning Piano Tune Instrument Tune Organ Tune Piano Stimmgerät Stimmgeräte Stimmen Instrument Stimmen Musikinstrument Stimmen Stimmgerät für Musikinstrument Stimmsoftware Klavier Stimmen Klavier Stimmgerät Stimmgerät für Klavier Orgel Stimmen Orgel Stimmgerät Stimmgerät für Orgel